Everyone interested in building a home sooner or later wants to know the price per square foot.   Whether you're building a home your family can grow into, or planning your dream view property, the cost will always be top of mind. It's normal (and recommended), that clients shop around and make comparisons so they can find the builder that suits them best.
For many years the indication of cost in construction were the words that all quality builders fear the most:  "So, what's your price per square foot?" When comparing custom homes this requires a careful answer for most building professionals.  If you go too low, you risk disappointing the client and having to admit your mistake if you go over budget. If you are too high, unscrupulous builders looking to hook a client will eat your lunch, only to disappoint the client when they find out that price doesn't include the roof!
Educating on Price Per Square Foot
With so many misconceptions around price per square foot, what is an enterprising, quality first, full-service builder to do? Today's homes, with their design inspired complexity and building code requirements, force builders to be informative and transparent. There is a lot to discuss in their explanations of cost, and how the design and the client's choices influence the ultimate cost of the project.  It's often a long explanation, but the education of the client in this early stage is critical to avoid misunderstandings later. The selection of a builder who can't accurately portray the cost of the client's preferences, and their impact on the rest of the project, is a critical error that sadly many consumers make.  
Comparing Two Kelowna Custom Homes
The former Fawdry Homes show home was locally designed and built in 2012. From the outset, it was a simple design consisting of a three-car garage, a full basement including under garage area, and separate entrance.  The floor plan for this home immediately became a customer favourite and was selected as the basis for 2 separate homes that were built over the next few years. 
This allowed us to analyze the customers' design choices and the difference in cost as it relates to the price per square foot. This made for quite an interesting case study of three similar custom homes with varying price points. 
Home A 
Consisted of the same floor area on a walk-out style lot, including:
Two car garage

9' basement ceiling

High-efficiency gas furnace

Mid-range appliances

Cost to Build, $710,000
Home B
Same approximate floor area on a flat lot, including:
Three car garage

9' in-ground basement 

Midrange appliances

High-efficiency gas furnace

Cost to Build, $860,000
Cost Factors Influencing Price Per Square Foot
A careful review of the final budget numbers for each of the above projects shows that, in order of cost magnitude, the most influential cost factors in each home, in descending order, are:
1. Interior Selections
High-end homes, with luxury fixtures, name brand engineered flooring, appliances to match and many other shiny bits and pieces often surpass people's budget expectations, and can account for well more than most people would think.  Current trends and the rise of design inspired social media platforms like Houzz and Pinterest have caused a surge in client design interest. This can cause many associated headaches for builders and clients. Sourcing new products to meet clients one of a kind choices can often be harmful to the final budget numbers, to say the least.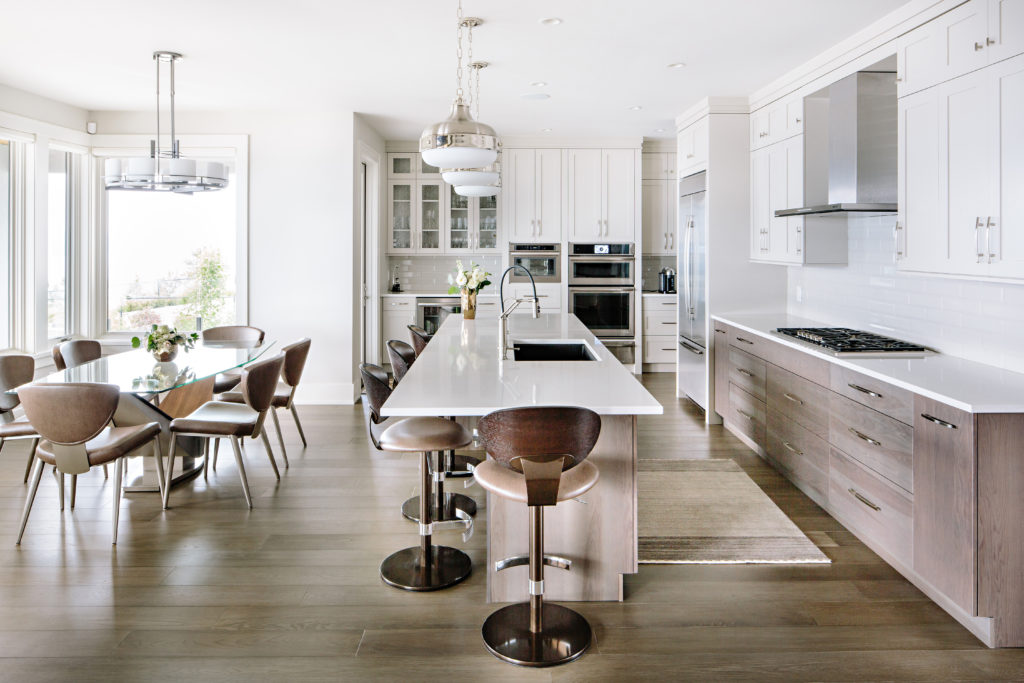 2. Site Preparation
What's in the ground?  If you're likely to be dealing with solid rock, get ready to pay for it.  Home A, a walkout had a small amount of site preparation and home B had nearly $80,000 in site preparation.  Be sure your contractor has the ability to understand the land, and what pitfalls may arise. Having a builder who is with you from the design stages onward is a big part of successful design implementation.  In other words, build the right house for the land it is on.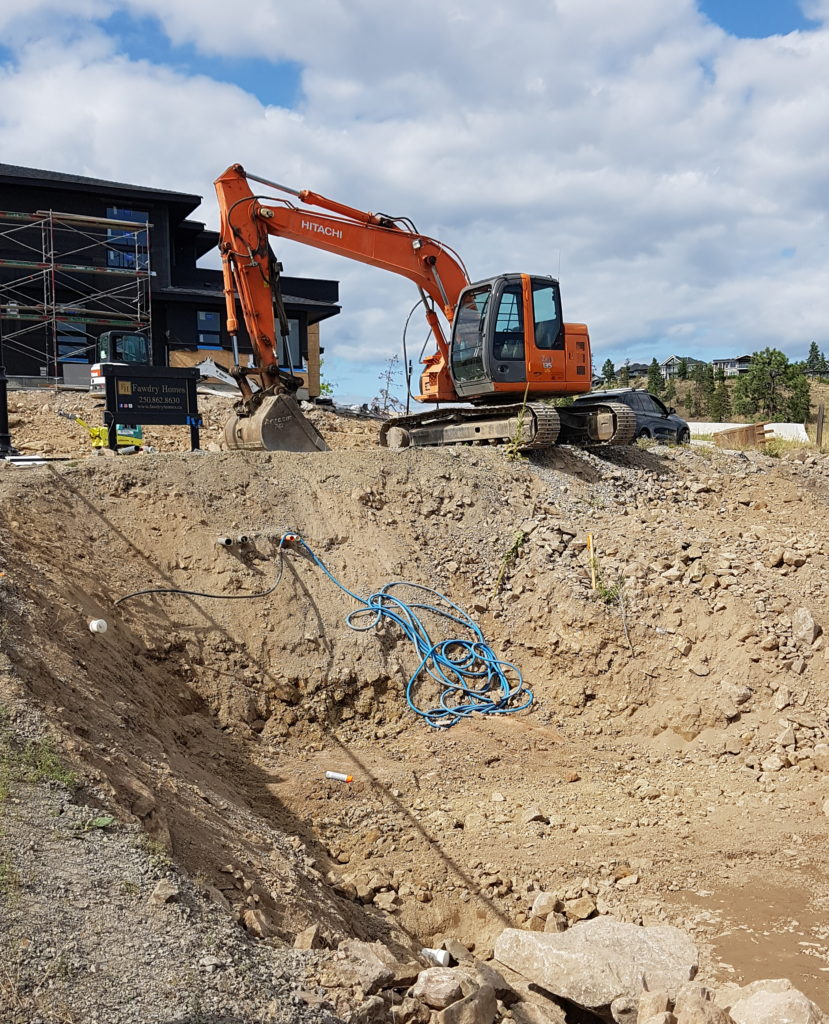 3. Quality You Can't See 
Some of the best value (and cost) in a home comes from items that clients often can't see the difference in.  A home's components, such as windows, make a huge difference in the quality and comfort of a home and is money well spent. Window packages for similar homes could vary from $20,000 to well over $100,000, with little discernible difference to the layperson. Other items, like Insulated Concrete Forms, or increased exterior insulation, come at a cost that a lot of people wouldn't realize makes for a much superior product.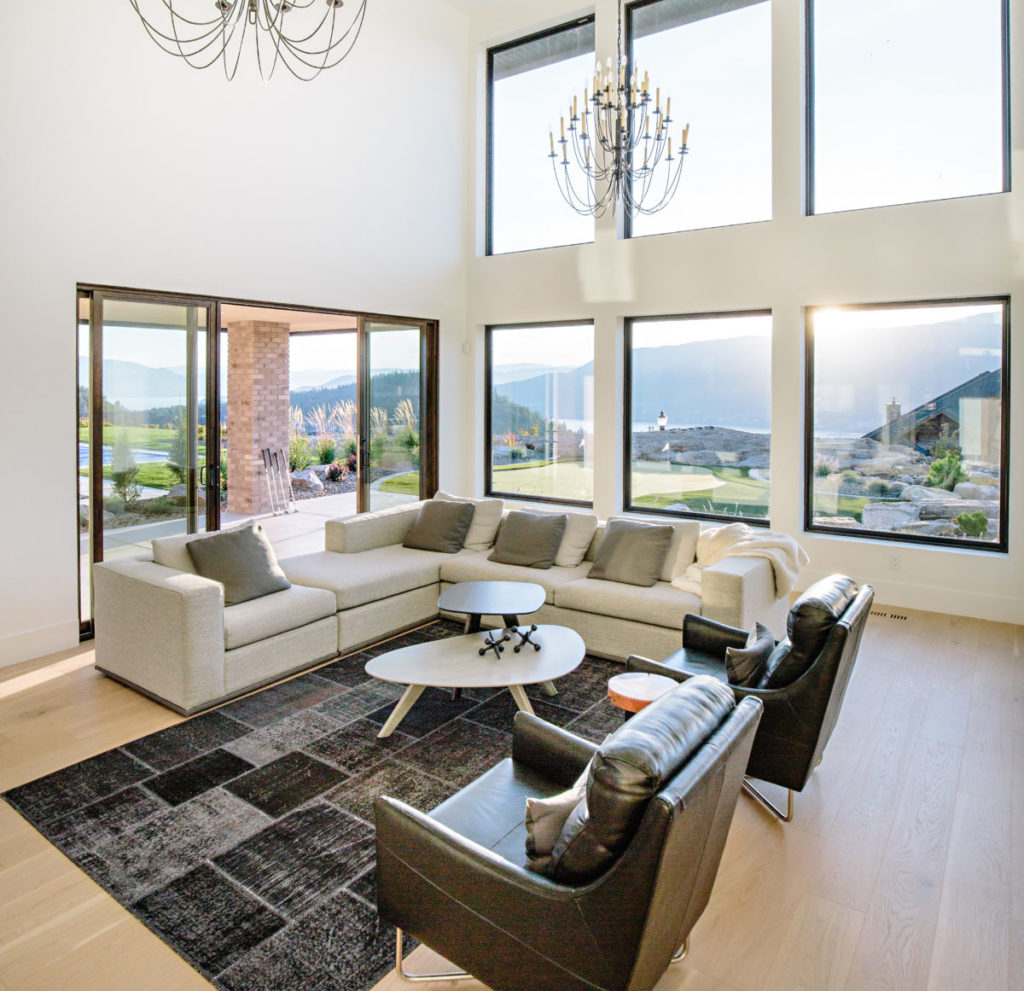 The bottom line when it comes to comparing homes and potential builders for an upcoming project is to think about what is driving the cost. Rather than focusing on price per square foot, pay attention to how well your contractor explains your options and helps you plan for significant cost factors.
When asked about price per square foot, a veteran builder and mentor of mine once answered with his own question: "What's the price of an average bag of groceries?" Of course, the answer could be many things. You could fill a grocery bag with Kraft Dinner or you could fill it with Caviar; and a home, like a bag of groceries, could consist of many different things, all with varying costs. 
Written by: Chris Freer
Fawdry Homes is a Kelowna custom home builder. The Fawdry Homes team is passionate about bringing your project to life. Whether you are looking for a luxury modern home or a rustic traditional style our team of experts can help. By working closely with clients and demonstrating a commitment to quality and service since 1984, Fawdry homes has built a reputation for building spectacular homes across the Okanagan Valley.  
View our projects to see some of the custom homes we've built for clients in the Okanagan. 
Want to get in touch? Contact Us