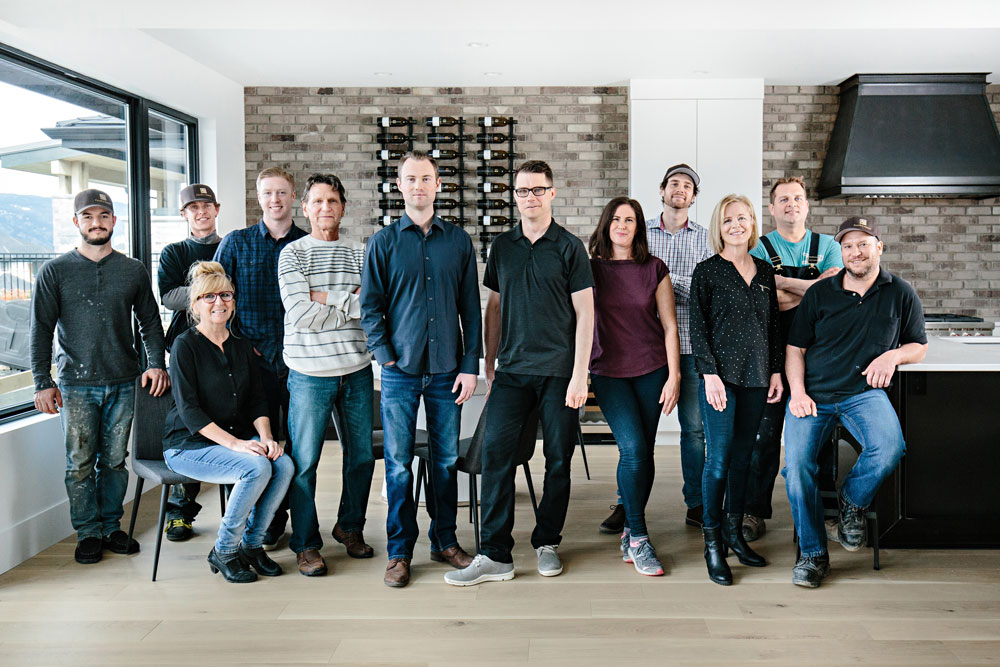 WHO WE ARE
The Fawdry Team
---
The Fawdry Homes team is passionate about bringing your project to life. Whether you are looking for a luxury modern home or a rustic traditional style our team of experts can help.
Chris Freer
Chris has worked in the construction, building inspection and real estate industry for over 20 years. He started working as a regional planner, developing  skills within the organisation and growth of prospective developments. Chris's experience working on site compelled him to start Genuine Custom Builders in 1999. As a partner at Fawdry Homes, Chris manages client relations and sales, guiding clients through the process from the first meeting to the last.
Jon Jenion
Jon has over 18 years' experience working in construction and applies his knowledge to assist his clients with their new homes. Jon is a joint partner in Fawdry Homes and works daily as the company construction manager. As an experienced licensed builder, Jon's knowledgeable and helpful demeanor provides customers with insight into their prospective builds. Jon instills confidence and ensures all of his customers are satisfied and excited with the development of their new custom home.
Glenn Fawdry
Glenn Fawdry started the company in 1984, after building homes across the Okanagan since 1976. Glenn has an inspiring knowledge of the trade and has kept up to date with the changes and developments over the last 40 years. Glenn's wealth of life experience including travelling all over the world and working in many different countries has provided him with unrivalled skills. Since the company's inception Fawdry Homes has been awarded with over 40 housing awards and has become one of the most renowned and trusted names in the Okanagan Valley.
Cody Wanner
Cody is Fawdry Homes lead estimator and is involved in every custom home that Fawdry produces. Cody graduated from BCIT in 2011 with a Diploma in construction estimating and has since put his talents to work for our customers. Working closely with clients, Cody is able to price the project from the ground up with precision. Dealing with all the logistics of estimating a home, Cody's attention to detail and diligence sets him apart. We are grateful to have him working for our clients.
James Appleton
James moved to Kelowna from the UK in 2012. He has been involved in business since graduating college and has worked in a number of corporate positions. James joined the company as a labourer, but realizing his background he was soon moved into the office assisting with the day to day running of the business including client relations and project coordinating. James connects with clients during the early stages of each project and helps them throughout the course of construction.
Diana Martinez
Diana is the account manager for Fawdry Homes and deals with all the financial elements of the business. She started her accounting career with a large multinational company and was privileged to have worked for one of Canada's major political parties for 11 years as their controller. Her years of experience and training make her an asset to the team and our clients
Nicole Green
Nicole Green, in an administrative role, has been actively engaged in the construction industry on many levels primarily setting up systems, preparing agreements, estimates, marketing and financial management. With a broad understanding of the construction industry Nicole brings experience and is excited to be committed and contributing to Fawdry Homes.
Sharon Womacks
Sharon's past experience in construction and her ability to connect with people make her the ideal person to introduce Fawdry Homes to new visitors and to help our office run smoothly. Fawdry Homes relies on her work ethic and personable manner to help our clients with their many needs.
Jeff Kibble
Jeff supervises projects from the moment construction gets underway. As a fully qualified Red Seal Journeyman and on of Fawdry Home's longest running employees he fully understands the Fawdry method. His attention to detail, quality of work and professionalism is a representation of his skill and dedication. By working closely with clients and sub-trades throughout the course of construction Jeff is able to realize a client's vision for their future home.
Kris Kohut
Kris has worked in the construction industry his whole life providing him with an invaluable skill set. Having worked on a number of large commercial projects, Kris understands the complexity and ever-changing nature of the industry. As a Red Seal Carpenter, Kris is our go-to guy when work needs to get done. Whether he is assisting with framing and foundations or adding the final touches we can always rely on Kris.
Get In Touch
Let's Build
---
Interested in building with Fawdry Homes? Fill out the form below and we'll be in touch very soon.
GET STARTED
We're On Instagram @fawdryhomes
The Instagram Feed is down or configured incorrectly.