Every time spring comes along in the Okanagan, so does an uptick in the number of clients interested in outdoor living, and the conversation eventually gets to questions about swimming pool construction.  Our local outdoor living season here in Kelowna is longer than almost anywhere in Canada, so it's no surprise that the region is home to more pools per capita than anywhere else in the nation.  Here are a few of the more common, construction-related questions that surround swimming pools.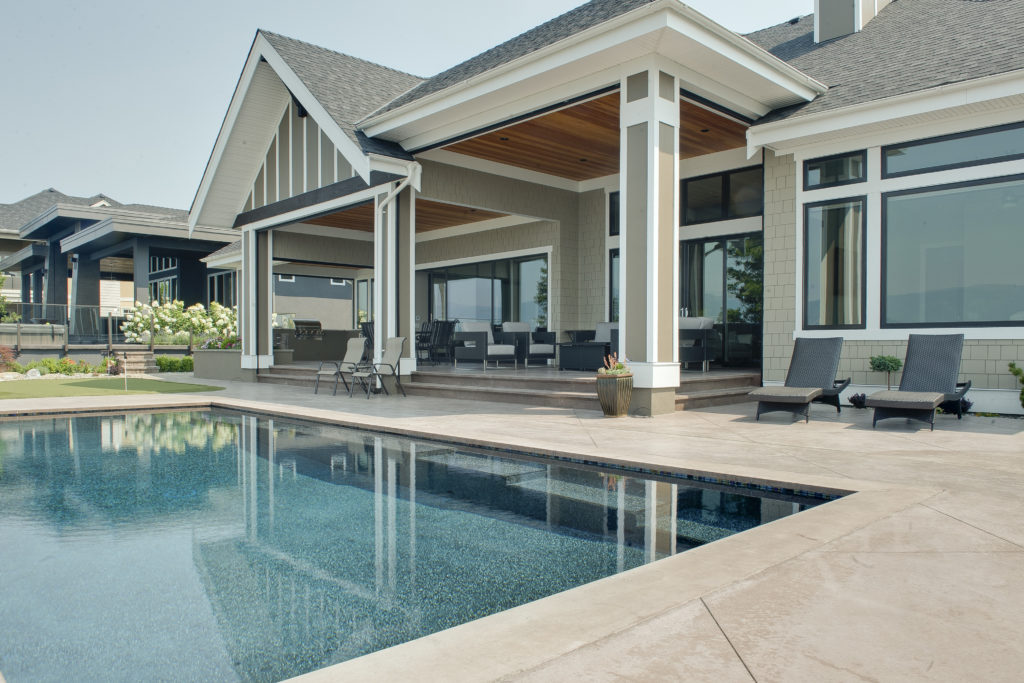 How Much Does Swimming Pool Construction Cost?
The cost of a swimming pool varies depending on the type of pool, the size, and a few other factors.  A small, vinyl sided pool might be in the $30,000 range, while a luxury infinity edge concrete pool can push well over $200,000 in value.  Generally, a vinyl pool is the least expensive, followed by fiberglass, with stainless steel and concrete being generally the most expensive.  The design of the swimming pool and the addition of many other special features including the surrounding pool deck and landscapes might drive the cost of the pool as well. Not to mention water slides, ladders, loungers, and other poolside furnishings.
A prospective pool owner will need to understand all of these costs, and the post-installation maintenance costs as well. Gene Brown, of
Valley Pool and Spa
, cautions people that monthly pool costs vary largely, depending on heating costs and the amount of use the pool receives.
What Are the Main Differences in Swimming Pool Types?
The lower initial cost and customizable shape of vinyl pools make them the most popular choice. With the disadvantage being the possible earlier replacement should the liner fail or be damaged.  Fibreglass pools are quick to install and very durable, but have a higher initial cost than the vinyl option.  Concrete pools, albeit much more costly to install, are very durable and can be built to incorporate many different design ideas, and can be engineered to fit on the most demanding of lots. They also require a longer time to construct.  Stainless steel pools, while somewhat costlier than vinyl or fibreglass, allow for quicker installation and are also extremely durable.
Saltwater Or Chlorine Swimming Pool?
Truth be known, a saltwater pool still uses chlorine to disinfect, it just gets there through a different method.  Salt water pools are more costly initially, but do provide easier maintenance and don't subject swimmers to as much chlorine when in use.  Traditional chlorine pools require more vigilant maintenance but do bring a lesser price tag initially.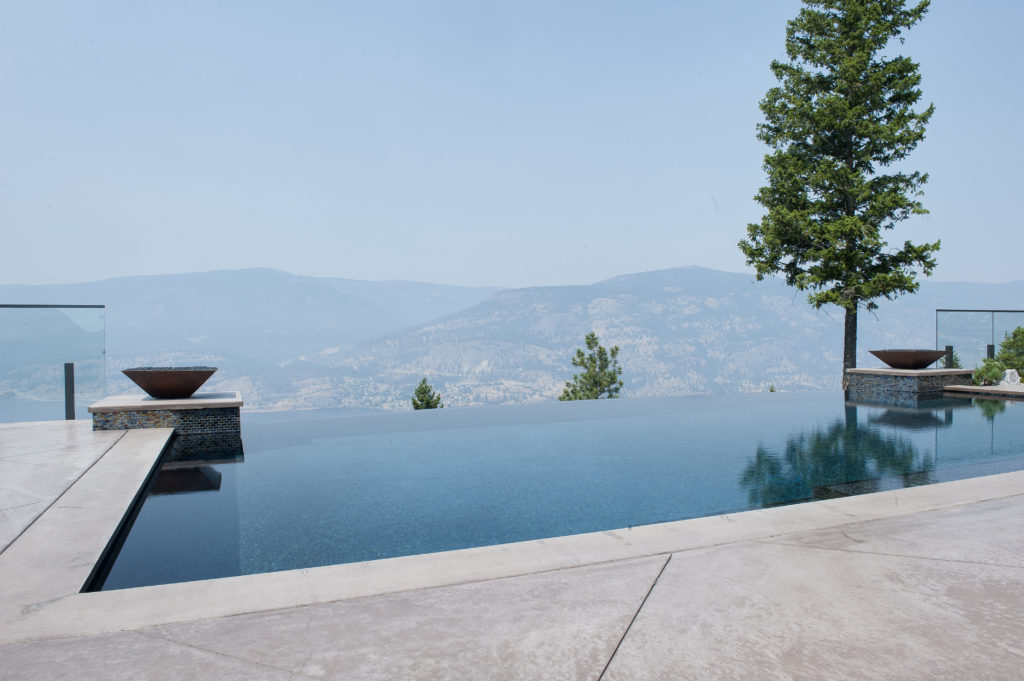 What About the Pool Deck?
Most people are familiar with concrete as a pool deck surface, but special care needs to be taken to make sure the surface is appropriate for the area, with factors such as drainage, texture, and color to be considered. A potential negative to a concrete pool deck surface is the chance that it will crack at some point, and of course as with any surface, concrete requires maintenance that many people often don't consider long-term.  As an alternative, companies like
Global Surface Solutions
in Kelowna have unique products including a modified cement product, available in any colour or texture, which helps make a pool deck safer, and adds a design option that people appreciate.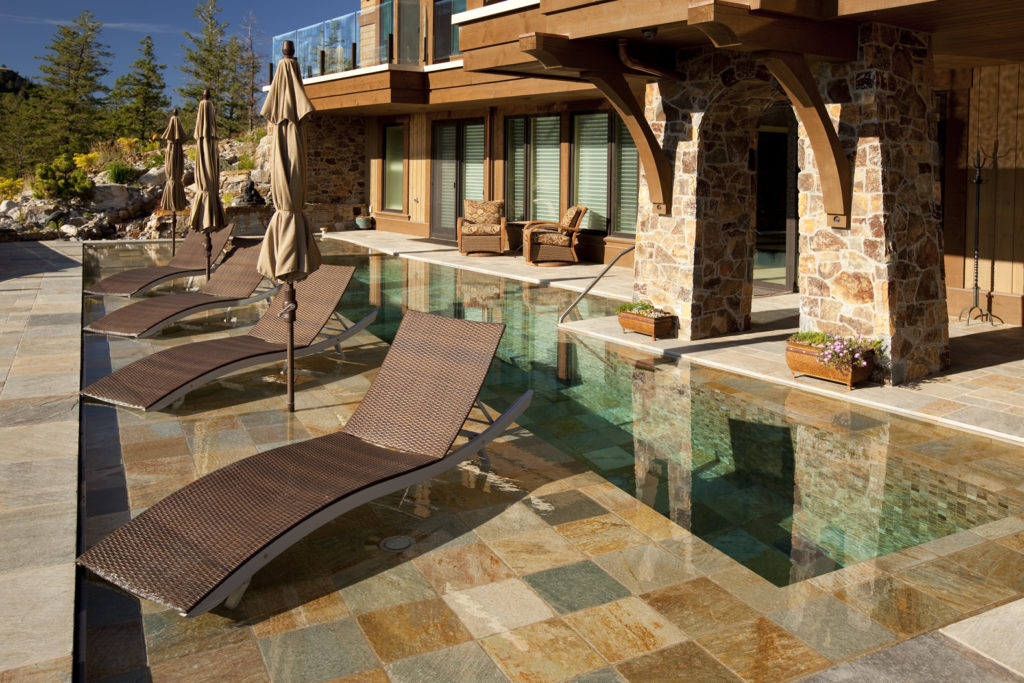 "To pool or not?" is a question builders receive regularly, and for any prospective client considering an outdoor or indoor swimming experience, it's important that the builder, pool contractor and associated tradespeople (electricians, landscapers,) are coordinated in planning for this eventuality.  From early engineering to the inevitable location of the pool equipment, many decisions need to be made with a clear view of what is best for the client's needs, and how it will provide a lasting outdoor experience with a minimum of hassle.
Written by: Chris Freer
Fawdry Homes is a Kelowna custom home builder. The Fawdry Homes team is passionate about bringing your project to life. Whether you are looking for a luxury modern home or a rustic traditional style our team of experts can help. By working closely with clients and demonstrating a commitment to quality and service since 1984, Fawdry homes has built a reputation for building spectacular homes across the Okanagan Valley.  
View our projects to see some of the custom homes we've built for clients in the Okanagan. 
Want to get in touch? Contact Us